We offer a large selection of contemporary and traditional picture frame components to make your frame with and all at competitive prices. Your purchase will always come with a quick and reliable turnaround. We have more than 30 years experience crafting perfect display systems and will use every bit of it to create your display. We guarantee it will look great and keep your treasures safe for years to come. More than 80% of our business is from repeat customers. Come on in and find out why!
Custom Picture Frames
All of our framing is done on site in our frame and design workshop. This allows us to be more organized and produce fine quality products like custom frames, shadow boxes and restorations quickly and at reduced costs. Crack in the Wall offers framing solutions from the simple to the complex. Our skilled designers will guide you through the entire design process, helping you choose the materials that best enhances your artwork and your decor. We work with you to create a finished product that not only suits your needs, but that will be stylistically versatile for years to come. Our superior customer service has made us San Diego's leading framing studio.
Picture Frame Moulding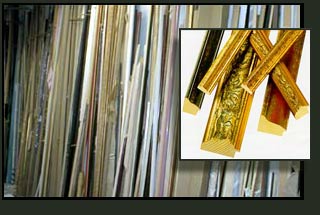 Crack in the Wall has a huge selection of custom frame mouldings! With over 1,000 frame corner samples and mat choices, we can create the perfect framing design that's just right for your artwork. We have a complete style range from contemporary to traditional, carrying well-known lines such as Larson-Juhl, Roma, Nurre Caxton and Nielsen Metal. Choose from fabric mats like linens, suedes, or raw silks, and hundreds of fillets to add the finishing touch to your masterpiece.
Our services also include: Frame restoration, Archival matting, Oil restoration, Diploma framing, Photographs framing, Beveled mirrors, Needlepoint, Antique furniture restoration, Ornamental and architectural plaster mouldings for interior design, custom made shadowboxes, special matting, Fillet enhancement, fabric wrapping, french lining, and more!
Recommended Links
Museum Quality Matting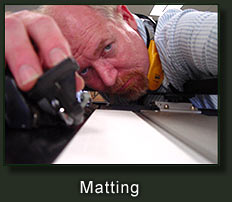 Crack In The Wall Framing offers Museum quality mats and mounting boards with stylish choices for every framing need. In order to properly conserve your art, Crack In The Wall Framing primarily uses Bainbridge Alphamats for our matting material. These Alphamats are a quality preservation matting that actively protects artwork from the damaging effects of pollution, paper degradation and from the by-products of the art's own aging.
The main purpose of matting is not just visual, but protective. Mats keep the glass from coming into contact with your artwork. This provides an air space to prevent damage due to condensation behind the glass. For other design options, we use liners, mat walls and acrylic spacers to separate artwork from glass and acrylic.
Once your design is complete we go right to work on sizing and fitting for the casing. At Crack In The Wall Framing, we take great pride in our precision cutting and joining so every inset is mated perfectly and the frame will have the strength needed to keep your treasure safe for years to come.
At Crack In The Wall Framing, we take great pride in our precision cutting and joining so every miter is precise, strong and the appearance, professional. We guarantee our workmanship and offer you excellent value for your purchase. When you frame with us, you know that your project is going to be beautifully designed and impeccably crafted.
We understand how important and valuable your treasures are, and we handle your items with care and respect. Call us or stop by our gallery for more information on our full line of services.
We want you to be pleased and hope you'll come back!